Call for Papers
3rd International Congress of NanoBiotechnology & Nanomedicine 2009

June 22-24, 2009
San Francisco Airport Crowne Plaza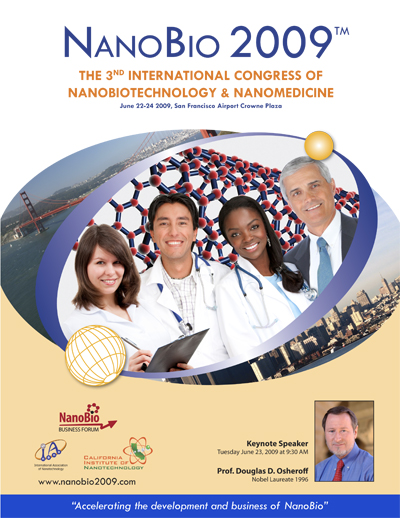 The International Association of Nanotechnology is now accepting abstracts for the upcoming 3rd International Congress of Nanobiotechnology & Nanomedicine 2009, which will be held on June 22- 24, 2009 at the San Francisco Airport Crowne Plaza, in in San Francisco, California, the USA.

Topics:

Nanomaterials
Nanoparticles
Nanodevices
Nanoelectronics
Nanobiotechnology
Nanomedicine
Nano scale characterization
Nano Tools
Nanoscale medical imaging
Medical diagnostics
Nanoparticles Toxicology
Heath Safety Implications
Intellectual Property
Commercialization
Venture capital investment
and other related topics
Intellectual Property and Technology Transfer
Education & Workforce Training
Societal & Environmental Impacts
Capital Funding and Grants for Start-up Ventures
How to submit an Abstract
Please email your abstract in MS Word file (.doc file) and in Adobe Acrobat format (.pdf) to abstract@ianano.org
or a speaking opportunity at the NanoBio 2009, please complete and submit your abstract using the online form:
http://www.ianano.org/speaking.htm
For poster presentation opportunity: http://ianano.org/poster.htm
Registration online: http://www.ianano.org/Registration-1-NanoBio2009.htm
Invitation Letters:
If an official invitation is necessary for you to obtain a visa to attend the meeting, please complete the request for a formal invitation letter from the Program Chair:
http://ianano.org/invitation-request.htm
Guidelines
<![if !supportLists]> 1. <![endif]>Abstracts should not exceed 500 words.
<![if !supportLists]> 2. <![endif]>Please follow the format as outlined in the following abstract template (.doc)
---
If you have any questions, please contact the Program Coordinator at 408-280-6222 or email to program@ianano.org